On Sunday, April 8th, a motorcycle run benefit for Caleb Martin will be help at Turner Hall in Mt. Olive at noon for his battle with cancer. The run will begin and end at Turner Hall followed by music from The Yard Dogs, food, silent auction, and 50/50 raffle.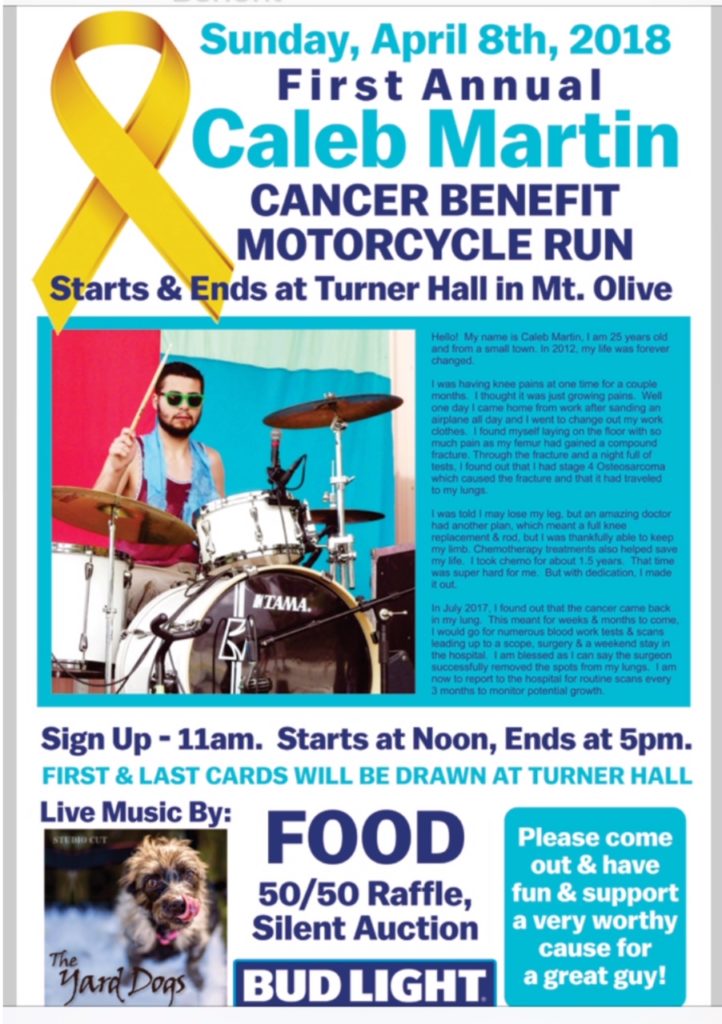 Here is Caleb's story:
Hello! My name is Caleb Martin, I am 25 years old and I'm from a small town. In 2012, my life changed forever.
I was having knee pains at one time for a couple months. I thought it was just growing pains. Well one day I came home for work, after sanding an airplane all day, I went to change out of my work close; to find myself laying on the floor with so much pain as my femur gained a compound fracture. Through the fracture and a night full of tests, I found out that I had stage 4 Osteosarcoma, which caused the fracture and found that it had traveled to my lungs.
I was told I may lose my leg, but an amazing doctor had another plan, which meant a full knee replacement and rod, but I was thankfully able to keep my limb. Chemotherapy treatments also helped save my life. I took chemo for about 1 ½ years. That time was super hard for me. But with dedication, I made it out.
In July 2017, I found out that the cancer came back in my lung. This meant for weeks and months to come, I would go for numerous blood work, test, and scans, leading up to a scope, surgery, and a weekend stay in the hospital.  I am blessed as I can say the surgeon successfully removed the spots from my lungs. I am now to report to the hospital for routine scans every 3 months to monitor potential growth.